Savage replacement barrels
Looking for the perfect replacement barrel for your Savage rifle? Maybe you would like to change calibers. We have just the thing for you. Lothar Walther's Supermatch Stainless barrels are made to exact specfications, and come ready to install.
The Supermatch barrels have a target contour measuring 1.055" at the breech and .840" at the muzzle. The muzzle features a depressed center crown and the breech is pre-threaded for your Savage receiver. Barrels are made from a proprietary stainless that resists erosion in the throat, maintains group form and fouls less making it easier to clean. Hands down, the Supermatch barrels from Lothar Walther are the best barrels in the businesss, in any caliber.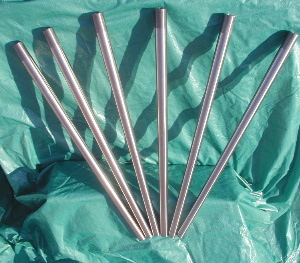 .204 Ruger- 1:10 twist - 24" length --------- $289.00
.204 Ruger- 1:12 twist - 24" length --------- $289.00
.223 Rem - 1:8 twist - 24" length ----------- $289.00
.223 Rem - 1:9 twist - 24" length ----------- $289.00
.223 Rem - 1:12 twist - 24" length ---------- $289.00
.22-250 - 1:8 twist - 24" length ------------- $289.00
.22-250 - 1:12 twist - 24" length ------------ $289.00
6BR Rem - 1:14 twist - 24" length ---------- $289.00
.243 Win - 1:8 twist - 28" length ------------ $308.00
.243 Win - 1:10 twist - 24" length ----------- $289.00
.260 Rem- 1:8 twist - 28" length ------------ $308.00
6.5-284 Norma- 1:8 twist - 28" length ------ $308.00
.284 Win - 1:9 twist - 26" length ------------ $289.00
.308 Win - 1:10 twist - 24" length ----------- $289.00
.300 WinMag - 1:10 twist - 26" length ------ $289.00