For the Ferret50 info page, click here.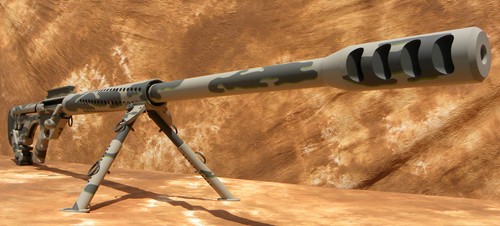 2010 36" Supercomp Rifle with custom Duracoat Camo
Are accuracy and quality important to you? The Ferret50 will give you a lifetime of service with amazing accuracy, right out of the box. This is because we care to do better than the rest. And while anyone can say that, we provide proof. Click here and scroll down to see stats from Ferret50 customers at 1000yd competitions. So you can spend a little now and cry later or spend a little more now and make your competition cry forever. The choice is yours.
Call me anytime, Dave - 407-957-3617

2004 29" Supercomp

2004 36" Supercomp
Prices listed are retail.
Please call for CA$H discount.
To place your order, call 407-957-3617.
_____________________________________________________
Supercomp Ferret50 Rifles - 50BMG
With a LW-19 chrome-moly barrel..................$3,382
With a LW-50 stainless steel barrel.................$3,657
With a LW-50 Supermatch stainless barrel.....$3,912
Choose any barrel length from 18" to 36". Common lengths are 18", 24" 29" 32" 36".
Replacement barrels
LW-19 Chrome-Moly
18" to 36" - $663.00
LW-50 Stainless
18" to 36" - $795.00
LW-50 Supermatch Stainless
18" to 36" - $928.00
Replacement parts
(gunsmith labor not included)
Standard receiver ----------- $398.00
Extended receiver ----------- $583.00
Backcap ----------------------- $82.00
Bolt --------------------------- $393.00
Bolt tube ---------------------- $68.00
Firing pin ---------------------- $68.00
Extractor ---------------------- $35.00
Handguard (standard) ------ $170.00
Handguard (long) ----------- $199.00
Fish Gill brake --------------- $155.00
Bipod mount ------------------ $85.00
Upper bipod leg (std) ----- $55.00@
Upper bipod leg (long) -----$70.00@
Lower bipod leg -------------$65.00@
Hammer (standard) ---------- $35.00
Match hammer/trigger ----- $185.00
(includes springs and pins)
Extra power hammer spring - $8.00
Anti-walk pins (set) --------- $14.00
Lothar Walther Supermatch Stainless Savage replacement barrels -- From $289.00 , click here.
Available options (must be specified at time of order):
Left hand bolt: free with our compliments
00MOA, 20MOA, or 60MOA sloped scope rail: add $75
Custom engraving: $150 for 10 letters; $15 for each additional letter, space permitting.
Custom height bipod legs: $75 pair
Longer handguard (no vent holes): add $75
A-10 style receiver: add $150
Custom chamber: add $100
(Available chambers: .510DTC, .50Spider, .50SFBR, .416Barrett, .408CheyTac, .338Harris, .338Lapua, .338Weatherby)
Accessories:
Front bench rest support: $250.00
Spare parts kit for uppers: $60
Spare parts kit for Supercomp Rifles: $120
Customized Cleaning Kit: $120.00
Bore guide: $60
50BMG Headspace gauges: $190
.408 CheyTac Headspace gauges: $230
.338 Lapua headspace gauges: $130
Non-marring barrel change wrenches: $225
______________________________________
We accept Visa, Mastercard, checks, and money orders. A 50% deposit will secure your spot on the production run, or contact us to arrange a payment plan.
Paying by cash, check or money order; please call for cash discount.
We produce our uppers and lowers in batches we call "production runs". Each production run takes about 6 months to complete. At the time of order we will inform you of our schedule and when we estimate the production run to be completed. Due to delays out of our control such as material supply and work done outside of our shop (heat treat, barrels, etc) we do not promise when a run will be completed and your order delivered. However, we do all that we can to follow our own schedule. The bottom line is that we will deliver a superior product, even if delayed, before we will cut corners on quality.
Florida residents please add the appropriate sales tax for your county.
No FFL required for uppers. Lowers and complete rifles must ship to a FFL. All BATFE rules apply.
Call in your order at 407-957-3617 or send payment to:
Spider Firearms
2005-B Murcott Dr.
St. Cloud, FL 34771-5826
Or Email us at info@ferret50.com and we will call you for your order.
The Ferret50 is guaranteed against manufacturer defects for life. If there is ever a problem with your Ferret50, immediately contact us and we will work with you to correct the problem.
We do not allow cancellation of orders and refunds on deposits.